Essiccatori a refrigerazione - Refrigera ting dryers - Sécheurs par réfrigération - Kältetrockner - Secador refrigerante
LA TECNOLOGIA DELL'ALLUMINIO FINALIZZATA AL RISPARMIO ENERGETICO
LA PADANA incrementa la propria gamma di essiccatori per il trattamento dell'aria compressa, con la nuova serie ACT (Aluminium Cooling Technologies) mirata alla riduzione dei consumi energetici, grazie all'alta efficienza del Modulo di essiccazione e alla limitatissima caduta di pressione. I vantaggi principali offerti sono: - Caduta di pressione limitata anche in condizioni di carico estremo; - Punto di Rugiada (DewPoint) estremamente costante anche al variare delle condizioni di funzionamento. La serie ACT e stata progettata nel massimo rispetto dell'ambiente visto I'utilizzo di refrigeranti ecologici e la selezione di materiali costruttivi riciclabili.

ALUMINIUM TECHNOLOGIES DIRECT TO ENERGY SAVING
LA PADANA has increased it's range of compressed air dryers with the introduction of the new ACT range (Aluminium Cooling Technologies). This high efficiently cooling module has a direct effect on reducing energy consumption and pressure drop. The main advantages are: ñ Low pressure drop even with load variances; ñ Constant pressure DewPoint with differing load conditions. The components of the ACT range from refrigerant to materials of construction have been selected with maximum respect for the environment and their ability to be recycled.

PANNELLO DI CONTROLLO

II corretto funzionamento dell'essiccatore viene monitorato attraverso il termometro digitale del pannello di controllo. Nei modelli ACT 180 - 720 e possibile richiedere lo
strumento elettronico DMC20. II DMC20 e standard nei modelli ACT 900 - 1500.
CONTROL PANEL
Operation of the dryer is monitored by a digital thermometer in the control panel. The DMC20 electronic controller is fitted as standard to models ACT 900 - 1500 and as an option to models ACT 180 ñ 720.
VALVOLA DI BY-PASS "GAS CALDO"
Di nuova concezione e con precisioni operative non ancora disponibili sul mercato, la valvola di by-pass "gas caldo" previene la formazione di ghiaccio all'interno dell'evaporatore a qualsiasi condizione di carico. Regolata durante il collaudo finale dell'essiccatore, non necessita di ulteriori regolazioni. Un unico modello di valvola per
ciascun refrigerante utilizzato.
"HOT GAS" BY-PASS VALVE
The precise and accurate hot gas by-pass valve, which prevents the formation of ice inside the evaporator at any load condition, is a recent development unavailable in the past. The valve is set during final test and no further adjustments are necessary. There is only one model of valve for each refrigerant used.
SCARICATORE DI CONDENSA
Tutti i modelli hanno uno scaricatore di condensa elettronico temporizzato. II tempo di scarico ed il tempo di pausa tra un intervento e I'altro sono regolabili. In alternativa puo essere installato (anche successivamente all'acquisto, con una semplice operazione di sostituzione) uno scaricatore elettronico a livello, in grado di garantire lo scarico completo della condensa senza alcun spreco d'aria compressa.

CONDENSATE DRAIN
All models are fitted with a Cimed electronic drain. Discharge and pause times are adjustable. A zero loss drain is available as an option.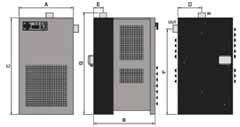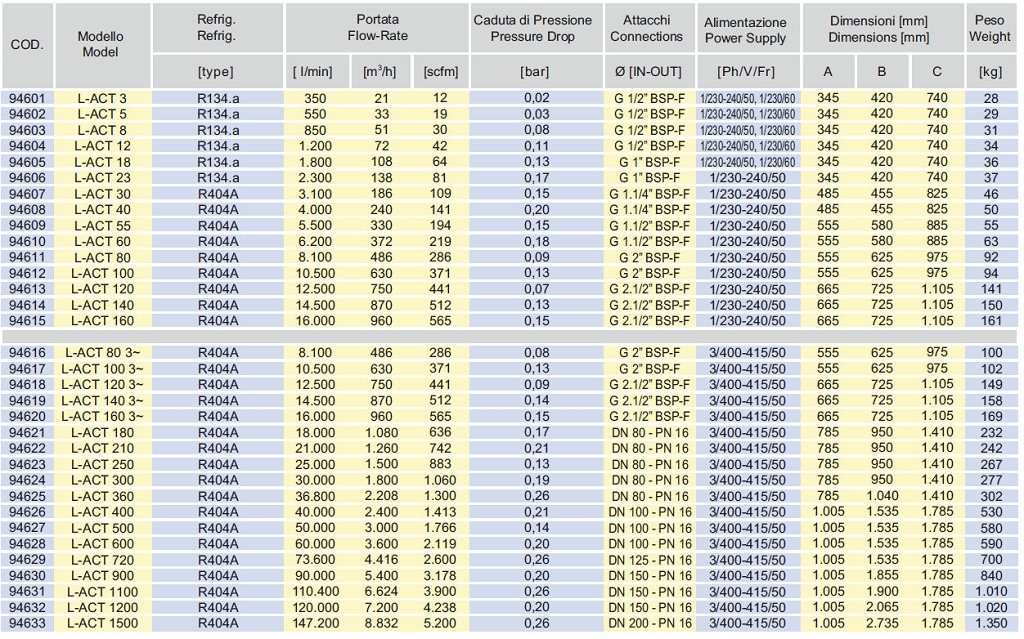 LA QUALITA DELL'ARIA SECONDO LA ISO 8573.1
L'aria compressa trattata con gli essiccatori della serie HDT garantisce standard qualitativi elevati, nel rispetto della normative ISO 85.73.1. Di seguito si riportano le classi di qualita dell'aria compressa, in base al contenuto residuo dei principali contaminanti:

Air quality according to ISO 8573.1
Compressed air treated with HDT dryer series guarantees high quality standards, conforming to ISO 8573.1. Below find compressed air quality air classes, according to the contents of main residual contaminants:

OLIO
Classe di Qualità 1 (Massima concentrazione di olio residuo 0.01 g/m3) per mezzo del filtro disoleatore FTX in entrata (0.01 micron).
OIL
Quality Class 1 (Max. residual oil concentration 0.01 g/m3) achievd by inlet oil removal filter FTX (0.01 micron).
PARTICELLE SOLIDE
Classe di Qualità 2 (Massima dimensione delle particelle 1 micron 1 mg/m3) per mezzo del filtro antipolvere FTS in uscita (1 micron).
SOLIDS PARTICLE
Quality Class 2 (Max. size of residual solid particle 1 micron -1 mg/m3) achieved by outlet dust removal filter FTS (1 micron).
CONTROLLORE ELETTRONICO
Il corretto funzionamento dell'essiccatore viene controllato e monitorato costantemente dallo strumento elettronico DDC12 o DDC15
ELECTRONIC CONTROLLER
The correct operation of the dryer is constantly checked and monitored by an electronic controller DDC12 or DDC15